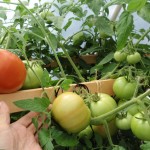 Tomatoes are the single most requested crop to grow in most aquaponics systems. The expected yields in this article are based on growth from a single Grow Tray (shown below) and are very conservative. They are based on the lowest yield per plant, the shortest harvest cycle and the longest time a plant will remain in the Grow Tray Table of the system. The actual production and yield is often two to four times the stated amounts in most cases especially after the operator becomes more skilled.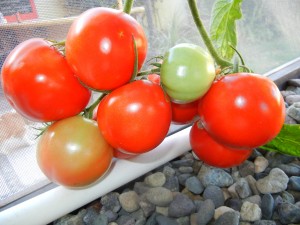 (Left Photo) Each of these tomatoes weighs approximately 1/2 pound. We harvested them yesterday (February 1, 2012) in a popular Aquaponics System. THEY ARE DELICIOUS.
If tomatoes from in an aquaponics systems are planted, raised and sold as 'organic,' the grower can receive higher prices based on their organic origins further reducing the ROI than stated in this article.
Tomatoes from a single full size 5' x 40' (200 sq ft) [1.5m x 12m (18m2)] Grow Tray:
Each Grow Tray Table can hold 200 plants (1ft or 30cm centers) and be planted twice per year

Production (harvest time) is normally over a 60 to 85 day period

Because the plants are very small when initially planted there is a three month growing period before harvest begins

Staking or trellising is required and can be installed permanently

Tomatoes yield is between 5 lbs and 9 lbs [2 and 4k] per plant depending on variety

Yield per plant is 25 to 35 tomatoes per plant, depending on variety

'Determinate' tomato varieties are common in aquaponics due to space constraints but indeterminate tomatoes taste better and the plants can be pruned judiciously

No pesticides, fungicides or artificial fertilizers are ever used

Tomatoes can be harvested and used the same day for peak flavor and texture

Yield is 880 lbs to 1,760lbs [400 to 800k] every six months

Yield is 1,760 to 3,500lbs [800 to 1600k] per year

Yield 55lbs [25k] per week

PLUS 330lbs [150k] of Tilapia per year
Each Module contains one Grow Tray Table, one Fish Tank and one Clarifier. The components to make the Module functional also include a special pump and valve system, a control panel, air pumps and related hardware and wiring.