How to Plant Seeds in an Aquaponics System
– by Phyllis and Colle Davis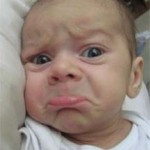 An aquaponics nursery is like any nursery, whether you have babies, plants, fingerlings (fish) because they all need very special care.
If a small plant (or fish) is healthy, their chances of their maturing to harvest is relatively assured unless you have some sort of catastrophic failure in your system. If you create a weakling through improper care, you will be disappointed in your aquaponics results.
We spend a great deal of time caring for our Portable Farms Aquaponics Systems' nurseries! After your fish and plants have acclimated to their new environment, you'll know IMMEDIATELY whether they are happy, or not. It's hard NOT to tell because your fish won't eat and your plants will wither and die (quickly) so there's no second-guessing the health of your aquaponics system.
Install your own Portable Farms Aquaponics System after taking Aquaponics University  Simple, Easy and Fun online course! It only takes about one hour per day for about two weeks and when you finish the course you will receive your own Portable Farms Kit to build your own commercial or backyard farm that will feed people forever. The price for the Aquaponics Course which includes the entire assembly, operations and maintenance course, PLUS the PFAS Technology Kit for one module is $2,500. Offer is now available in select countries.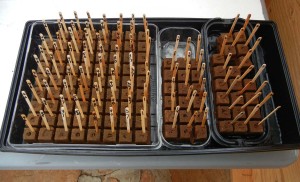 We plant our seeds to be placed in our Portable Farms in Oasis Horticubes. They are extremely porous for seed planting and they are pH neutral and contain no fertilizer so they are widely used by organic growers and their design allows for drainage of excess water from the base of the pot so they are ideal for growing plants in gravel.
When it's time to plant seeds, wet a block of several Horticubes in water that has been tested for between 5.8 and 7 pH level. Then place one seed in each of the separate Horticubes. Place a numbered marker (we use deli-sticks) in each Horticube so you'll know what seed you've planted in each Horticube and on what date. We crumble up a bit of extra Horticube and place in the 'hole' in the Horticube to create a dark space for the seed to germinate.
After all your seeds are planted in your Horticubes, sprinkle again with water so you are assured the seeds are moist. Then put the tray of seeded Horticubes in the dark for two days which seems to help stimulate growth. I also put a towel over a temporary lid to keep the seeds out of cool drafts. I also place the tray on a temperature-neutral surface under the trays to keep the plants from getting cold. I use a Styrofoam bead board (because I can wash it off regularly).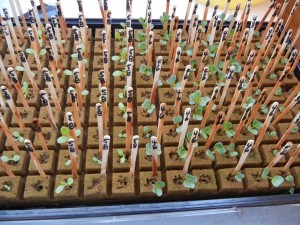 48 hours after planting, I introduce the plants to indirect window light (direct light is too intense). After the plant has reached about 1″ to 1.5″, I transfer the new seedling into the gravel to begin it's life in the aquaponics system. Some seeds take longer to sprout than others so take your time and you'll learn which plants require 'how much' time before transferring. Sometimes they'll sprout and grow to a size to be transplanted in 5 days, other seeds sprout in a week or more.
Some people like to use seed-warmer mats which keep the temperature ten to twenty degrees warmer than air temperature, but be careful! Mats dry out the moisture in the Horticubes and can kill your seedlings if you're not closely monitoring the water supply in the pots.
In these Horticubes, I've planted new varieties of organic seeds for kale, leeks, spring/green onions, bock choi, and eggplant. We're always experimenting with new food in our Portable Farms Aquaponics System so stay tuned and we'll keep you posted our successes and our failures.