Aquaponics Systems for Sale 
– by Colle and Phyllis Davis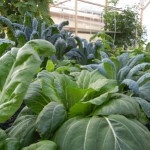 If you're interested in owning your own aquaponics system, your first goal is to select the size aquaponics system you'd like to operate for your own unique purposes. We always suggest to our customers that they learn how to successfully operate an aquaponics system and if it fits their needs THEN expand to multiple aquaponics modules (the sky's the limit).
– Are you interested in a small backyard system so you can 'get your hands wet' and learn how to operate an aquaponics system?
– Would you like a few aquaponics modules so you can begin to sell the food you grow and then expand?
– Or, are you interested in the commercial side of aquaponics that raises and sells vegetables and fish to local markets in your area? You can begin at the top and install multi-acre commercial systems!
The future of food production involves growing food in a controlled-environment greenhouse. By growing food in greenhouses, growers are no longer dependent on weather conditions (think climate change), and they can grow food year round, in any climate, and the grower doesn't need to use harsh chemicals or pesticides to protect their plants.
Which aquaponics systems for sale are you interested in owning? 
There are literally thousands of websites that can show you how to set up a small workable open-source aquaponics system for free. For many people who are not able to buy our systems, we suggest you start there and we also suggest you lurk around forums to ask and answers questions.
Colle Davis' story: A simple aquarium and a dish pan with two inches of rough sand in the bottom of the dish pan were the originating ideas for the original Portable Farms™ Aquaponics Systems that all began at University of California at Davis back in 1970. To read more of the history of Portable Farms: CLICK HERE.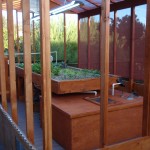 For a very small backyard Portable Farm, the cost is approximately $4,000 to $4,500 and the system will feed a family of four all of their surface vegetables and a few fish per month, year round, in any climate, forever. This cost is not affordable enough to be practical in some people's mind, but at this level of investment it is certainly doable and it will eventually pay itself off. This amount includes the Aquaponics University Portable Farms Aquaponics Systems Course© plus, it also includes the cost of installing a small greenhouse to protect the system, the materials to build the Grow Tray and a correctly sized Fish Tank to put it all together. This amount of money will build a small, single module tray system that will be operational year round and provide vegetables and fish to your family on a regular basis.
Read Our New Six-Part Article Series for Backyard Aquaponics Made Easy

- by Colle and Phyllis Davis

The next step up is almost too easy; yes, you can sell the food you grow. The desire to 'sell the excess' is almost too good to pass up. Your neighbors and friends will be delighted to receive your excess bounty for free and a few of them will offer to pay for it. TAKE THE MONEY. It is your reward for being smart and focused on your business. Building a larger installation to house two or more Portable Farms™ Aquaponics Systems' Modules makes the adventure into a real commercial aquaponics business. Starting with about twice as much money as noted above, a person can become a millionaire is less than ten years.

Read our Newly Published Three-Part Article Series Getting Rich Slowing with Aquaponics

Article 1: Getting Rich Slowing with Aquaponics – Start Small and Grow Large
Article 2: Getting Rich Slowing with Aquaponics – Growing as You Grow
Article 3: Getting Rich Slowing with Aquaponics – Growing the Business
Or, the large commercial aspect can be address in the very beginning. Offering your aquaponics systems for sale after making your money back in three to five years is a very smart investment strategy and one where you can demonstrate that a pricing of $400,000 to $600,000 is an easily justifiable sales price for a going commercial installation in any market.
To receive a .pdf Special Report on the 5-phases of Commercial Growing to present to investors or business partners, please request this formal document by sending an
email to Colle Davis

.
Read our new series, Building a Commercial Aquaponics Installation

Introduction: CLICK HERE.
Phase 1: Conceptual Research: CLICK HERE.
Phase 2: Planning: CLICK HERE.
Phase 3: Site Preparation: CLICK HERE.
Phase 4: Initial Operations: CLICK HERE.
Phase 5: Ongoing Operations: CLICK HERE.

At what level are you interested in to explore aquaponics? Looking on the Internet for Aquaponics Systems for Sale is one place to begin. There are not many aquaponics systems for sale, yet. Most of  them are very small, glued together backyard systems that sit in the open (without a structure/greenhouse which makes them seasonal hobbies) and, they have no guarantees or service or even an operators manual about how to assemble, operate and raise health food and fish.
You can begin with the professional and patented system that has proven itself in installations all over the world and is the parts are GUARANTEED for a full year. Please, take the Aquaponics University Portable Farms Aquaponics Systems Course©, build or lease a greenhouse, build the  Portable Farms™ Aquaponics Systems Modules and leap into the business. It's fun and after the installation, a small farm only takes about ten minutes per day to operate. Join us!