Aquaponics Training Curriculum for Portable Farms® Course©

(left) A newly constructed Portable Farms® Aquaponics System prior to planting or installing the fish in the fish tanks.
(right) 40 days after the seedlings were planted in the Grow Tables and the fish were installed in the fish tanks.
---
Portable Farms® grow food in greenhouses, warehouses or underground structures
Without the use of any pesticides, harsh chemicals, antibiotics or hormones
Portable Farms® use 95% less water than traditional agricultural methods
Portable Farms® use less electrical power than any other aquaponics system in the world and can be solar or wind powered
Portable Farms® provide table vegetables (greens and blooming plants such as tomatoes, peppers, etc.) and fish (tilapia) as a protein source to maintain optimal health
Three people can operate one-quarter of an acre of Portable Farms® which feeds 240 people forever. Twelve people can operate one acre of Portable Farms® which feeds 1,000 people forever
Portable Farms® can be operated by semi-skilled labor and people of almost any age (young and old)
Greens grown in Portable Farms® can be harvested in as few as 28 days after installation and continue producing forever
Portable Farms® feed families, communities, cities, countries and the world.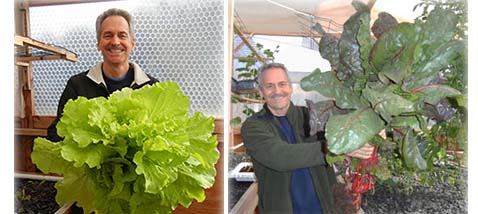 One head of tokyo bekana (a mild Asian green) and one head of Swiss Chard grown in Portable Farms® by Colle Davis, lead inventor, Portable Farms®.
Our 45 years of experience in aquaponics is now available to teach you how to feed your family FOREVER. [Read our History: CLICK HERE]
It only takes a few days to learn the areas related to assembling an aquaponics system  so you can build your own Portable Farms® Aquaponics System! Aquaponics is easier and more productive than organic gardening or traditional agriculture and uses 95% less water. Portable Farms® Aquaponics Systems also use less electricity and less labor than any other aquaponics system in the world.
Below is an outline of the 26 sections (A-Z) included in the Portable Farms® Aquaponics System Course© designed for training people to assemble, operate and raise healthy organic vegetables and aquatic animals (fish) in the Portable Farms® Aquaponics Systems through Aquaponics University, a wholly-owned training division of PFAS LLC.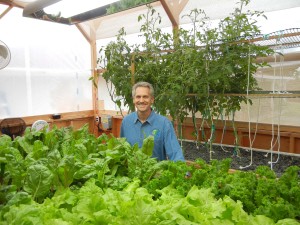 Section A: Preface to coursework and overview with images for main components of the aquaponics system
Easy formulation for sizing needs based on number of people the aquaponics system will feed.
Calculation for determining the size required for the fish tank.
Grow lights for structures, locations or areas with limited available sunlight.
Overview for an acclimatized greenhouse structure for year-round growing in an aquaponics system.
Section B: Explanation of the components that are incorporated into the aquaponics system for easy care.
Ratios for grow space vs gallons of water required for an efficient aquaponics system.
Recommendations for sunscreen protection for interior of structure (greenhouse)
Determination for required feet 'head room' above grow trays for maximum plant production.
Section C: Terms and definition regarding the aquaponics system
Terms and their definition that are used in the coursework, assembly and operations.
Section D: Site requirements for the aquaponics system
Considerations prior to the installation of the structure (greenhouse).
Suggestions for basic requirements regarding installation of grow trays, air flow within the structure and alternative energy.
Section E: Materials lists and cost estimates for assembly of the aquaponics system
Materials lists and US prices (approximate) for lumber, fish tank, fish and other pertinent supplies and materials
Suggestions regarding the purchase of a breeding colony for aquaponics.
Section F: Assembly of clarifier (settling tank) as component of the aquaponics system
Explanation and basic operation of clarifier
Location, requirements, drum, PVC fittings,  and proper plumbing of clarifier.
Section G: Fish tanks and introducing the fish into the fish tank in the aquaponics system
The formula for the volume (size) of the fish tank
Fish recommendation
Recommended maximum loading capacity of the fish in relation to the size of the grow tray.
Water temperature maintenance and insulation designs for maintaining recommended narrow temperature range for maximum fish health
Building a tank to protect the fish and maintain temperature range.
Section H: Assembly of grow tray tables in the aquaponics system
Directions for building and waterproofing methods for grow tray.
Examples for assembly of sturdy legs to support the weight of the grow tray.
Plumbing the grow tray for effective water flow to feed and water plants.
Effectively installing medium into grow tray.
Section I: Explanation of required necessary electrical components in the aquaponics system
List of electrical components, their function and installation
Section J: Calibrated Air Displacement (CAD) pump in the aquaponics system
Explanation, images and installation of the CAD pump.
Section K: Plumbing the aquaponics system for water flow in the aquaponics system
Instructions for connecting all the basic elements of the system together with PVC pipe.
Section L: Conclusion to assembly section for the aquaponics system
Section M: Basic operations of the aquaponics system
Information overview regarding the yields, care of plants and fish and the water in their tanks.
Section N: The fish and the support of their health and growth in the aquaponics system
Reasons for use of a variety of all-male fish in aquaponics
Feeding and care of the fish in the tanks
Restocking fish after harvest \Discussion for use of duck weed and suggestions and resources for raising duck weed for feeding fish.
Section O: Pumps in the aquaponics system
Overview and installation of pumps for moving water through the system.
Section P: Climate and weather specific operations and emergency solutions (due to power failure) in the aquaponics system.
Operating the system during normal weather conditions, hot conditions, cool or cold conditions and during emergency situations (power outages).
Section Q: The operations and cleaning of the clarifier in the aquaponics system
Directions for routine cleaning and disposal of the fish waste.
Maintenance of the clarifier for keeping the fish healthy and the plants happy and well fed.
Section R: The grow tray table and your plants in the aquaponics system
Vertical growing and trellis design features in the grow tray for maximum support of the growth of tall green plants or blooming plants.
Safety and hygiene issues for aquaponics that are vital to health of fish and plants.
Plant and harvest suggestions for maintaining optimal growth in the grow tray.
Care and cleaning of the areas around the grow trays to maintain as clean an interior structure as possible for maximum healthy, safety and productivity of both plants and fish.
Section S: Seed planting and harvesting in the aquaponics system
Use of mineral rock dust when planting and growing all plants to support maximum growth.
Suggestions for organic growing mediums for planting seeds.
Seed and variety suggestions for growing greens and blooming plants.
Planting and caring for plants in the grow tray.
Indoor pollination suggestions.
Section T: The physical structure for the aquaponics system
Recommendation for a greenhouse cover that offers 83% diffusion for scattering light within interior of structure.
Sun shade for interior of structure.
Advantages for greenhouse structure
What NOT to do regarding physical structure.
Section U: Fish harvesting and restocking methods in the aquaponics system
Recommendations for harvesting only the fish in the tank that are harvest size.
Suggestions for creating minimal stress on the smaller fish that remain in the fish tank that were not harvested.
Section V: Fish processing and cooking freshly harvested fish in the aquaponics system
Humane way to fill fish.
Easy way to gut fish.
Simple way to fillet fish.
Section W: Ongoing operations of the aquaponics system
Recommended daily 'chores' for raising plants and fish.
Normal maintenance issues related to the gravel, fish tanks, clarifier for maximum production.
Routine cleanliness-related topics for healthy food and fish.
Methods for monitoring plants to assure no insects impact food within the structure.
Section X: Food safety and technology on-farm food safety in the aquaponics system
Good food practices on aquaponics farm offered by a major US university related to the following basic sanitation procedures to significantly minimize risks.
Key areas of food safety considerations in aquaponics include human sanitation, harvesting produce safely, managing warm-blooded animal feces, water sources for fish and produce, zoonoses prevention and disposing of the system's waste water.
Section Y: Guidelines for growing health plants and fish in the aquaponics system
Worm casting tea as a foliage spray for enhanced plant health
Smoking prohibited due to Tobacco Mosaic Virus
Monitoring and adjusting pH balance to assure plant health and productivity as well as fish health and safety.
Section Z: Recognizing pests (bugs/insects) within the aquaponics system
Simple organic solutions for ridding pests from the structure.
Recommendations for protecting structure from pests.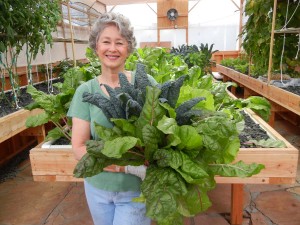 Aquaponics University (AU) offers our own Portable Farms® Aquaponics System Course© that teaches individuals how to grow chemical-free food and fish in a closed-loop system.
REFUND POLICY: Please note. You may ask for and receive a full refund of your tuition you begin the course  because you will have access to the entire course curriculum.  At the point, there will be no refund because you have received access to all our Intellectual Property.